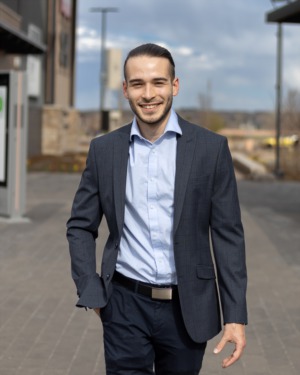 As a Realtor with a passion for innovation and adventure, Jamey offers a unique perspective to the world of real estate. When not assisting clients in buying or selling properties, Jamey is often found scaling cliffs or shredding down the Rocky Mountains.
Jamey's love for adventure has instilled a keen sense of preparedness and a forward-thinking approach to his work in real estate. He constantly seeks out cutting-edge technologies and innovative tools to give his clients an edge in the market. From virtual tours to cutting-edge marketing techniques, Jamey leverages the latest advancements to help his clients make informed decisions and maximize their transactions.
However, even as Jamey embraces technology, he never loses sight of the human element of real estate. The buying and selling of properties can be a complex and emotional process, and he makes it a priority to provide clients with the personal support they need every step of the way. Whether it's answering questions, offering guidance, or simply being there to listen, Jamey is committed to ensuring a smooth and stress-free experience.
Whether you're a first-time homebuyer or a seasoned investor, Jamey's unique combination of adventure, innovation, and expertise can help you confidently navigate the ever-evolving world of real estate and achieve your goals.